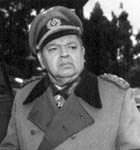 "After I had become well-known through the TV series 'Hogan's Heroes,' Beverly Hills school childsren would call after me 'Klink, Klink!' That was the name of the colonel who, due to his stupid behavior, continuously caused trouble for my character, General Burkhalter. Even my frequent threats - 'I send you to the Russian front!' - had no educational effect on Klink. People driving through Beverly Hills who saw these children raising their arms in the Hitler salute couldn't continue out of sheer shock and amazement and brought traffic to a standstill."
1926
First appearances on stage:
"Schrei aus der Strasse" by Rolf Lauckner, Pan Spiele, Vienna
"Der holländische Kaufmann" by Lion Feuchtwanger, Pan Spiele, Vienna
"Das Apostelspiel" by Max Mell, Pan Spiele, Vienna
1927/28
Student with the Theater in der Josefstadt, Vienna, under the direction of Max Reinhardt
1928-1997
Theater work in Vienna, Düsseldorf, Berlin, Hamburg, Munich, Linz, Paris, New York, Washington, D.C. and Los Angeles

1935/36
"Die erste Legion" by Emmet Lavery, Linz
1933-1938
Literary and political cabaret productions in Paris and Vienna
1941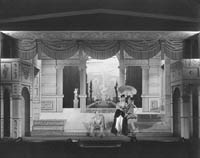 "The Gentle People" by Irwin Shaw, Washington, D. C.
"The Apple Cart" by George B. Shaw, Washington, D. C.
"Men in White" by Sidney Kingsley, Washington, D. C.
"Thunder Rock" by Robert Ardrey, Washington, D. C.
"The American Way" by George Kaufman, Washington, D. C.
"Troilus und Cressida" by William Shakespeare, Washington, D. C.
1946
"La Locandiera" by Carlo Goldoni, New York
1947
"Faust" (Part I) by Johann Wolfgang Goethe, New York
"The Merchant of Venice", New York
1954
"Saint Joan" by George Bernard Shaw, Los Angeles
1955
"Mrs. Warren´s Profession" by George Bernard Shaw, Hamburg
1975
"The Egg" by Félicien Marceau, Los Angeles
1979
"Fever in die Brain" by Marvin Aron, Los Angeles

In Düsseldorf:
1928
Legendre in "Dantons Tod" by Georg Büchner
Servant in "Kabale und Liebe" by Friedrich Schiller
1929
Lancaster in "Leben Eduards des Zweiten von England" by Bertolt Brecht and Lion Feuchtwanger
Filch in "Die Dreigroschenoper" by Bertolt Brecht (with E. Hauptmann, K. Weill)
1930
Aljosha in "Nachtasyl" by Maxim Gorki
Gunner in "Misalliance" by George Bemard Shaw
Dreyfuss in "Affaire Dreyfuss" by Hans J. Rehfisch
1931
Pistol in "Heinrich IV." II by William Shakespeare
1932
Baccalaureus in "Faust" II by Johann Wolfgang Goethe
Borachio in "Much Ado About Nothing" by William Shakespeare
Pfeifer in "Die Weber" by Gerhart Hauptmann
1933
Spiegelberg in "Die Räuber" by Friedrich Schiller
In Linz:
1935
Benvolio in "Romeo und Julia" by William Shakespeare
Gorotschenko in "Towaritsch" by A. Duval
1936
Stogumber in "Saint Joan" by George Bernard Shaw, Bratislava
1937
Pater Ahern in "Die erste Legion" by Emmet Lavery
In Wien:
1937
Greene in "Dr. Clitterhouse"
Lui in "Le Tombeau du Soldat Inconnu" by P. Raynal (auf französisch)
In New York (Broadway):
1947
Ringmaster in "Temporary Island" by Halston Welles
Faust in "Faust" (Part I) by Johann Wolfgang Goethe (in German)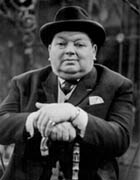 1947/48
Faust in "Faust" (Part I) by Johann Wolfgang Goethe (in German)
President in "The Madwoman of Chaillot" by Jean Giraudoux
Shylock in "The Merchantof Venice" by William Shakespeare
Guest performances, on tour:
1948/49
Sandor Turai in "The Play's the Thing" (Spiel im Schloß) by Ferenc Molnár
Uncle Chris in "I Remember Mama" by John van Druten
In New York (Broadway):
1950/51
Judas in "20th Century" by Ben Hecht und Charles McArthur
In Hamburg:
1955
Croft in "Mrs. Warrens`s Profession" by George Bernard Shaw
1957
Othello in "Othello" by William Shakespeare
Sartorius in "Widowers` Houses" by George Bernard Shaw
In Berlin:
1958/59
Volpone in "Volpone" by Ben Johnson
1960
Wirt in "Der grüne Kakadu" by Arthur Schnitzler
In Wien:
1962
Pozzo in "Waiting for Godot" by Samuel Beckett
1968
Marquis de Sade in "Die Verfolgung und Ermordung Jean Paul Marats dargestellt durch die Schauspielgruppe des Hospizes zu Charenton unter Anleitung des Herrn de Sade" by Peter Weiss
In Los Angeles: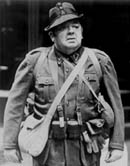 1971
Dumptsy in "Idiots Delight" by Robert Sherwood
In Wien:
1995
Cabaret – "Kleinkunst einst und jetzt"
Sixtus O'Connor in "Der Vater", a production of the Vienna Festival, directed by Paulus Manker, at the Theater an der Wien. Based on the book "Der Vater – Eine Abrechnung" by Niklas Frank, "Der Vater" – a bloody comedy, was created by Niklas Frank and Joshua Sobol.ödie
1996-1999
Tschang in "Das Land des Lächelns", Vienna Volksoper, Director: Klaus Maria Brandauer
1996-2001
Historical "witness" in Joshua Sobol`s polydrama "Alma – A Show Biz ans Ende", Purkersdorf Sanatorium, Director: Paulus Manker

1952
Assignment Paris (Franz)
Road to Bali (Ramayana)
Desert Legion (Major Vasil)
The Veils of Bagdad (Pasha Hammam)
1953
South Sea Woman (Marchand)
Three Lives
Son of Sinbad
The Robe (Abidor)
Knock on Wood (Gromeck)
1954
Valley of the Kings (Valintine Arko)
The Secret of the Incas (Anton Marcu)
China Venture (Wu King)
Superman in Exile (Ferdinand)
1955
Spy Chasers (Colonel Baxis)
Carolina Cannonball (Otto)
1957
My Gun Is Quick (Ludwig Teller)
1958
The Last Blitzkrieg
Der Schinderhannes (Eppelsheimer)
1959
Pension Schöller
Herrin der Welt (Fernando)
Unter Ausschluß der Öffentlichkeit (Dr. Leupold)
Abschied von den Wolken
1960
Bis daß das Geld euch scheidet (Dr. Plaubert)
Weit ist der Weg
1961
One, Two, Three (Kommissar Peripetschikoff)
Immer Ärger mit dem Bett
1962
Sherlock Holmes und das Halsband des Todes (Charles)
Lulu (Dr. Goll)
Das Testament des Dr. Mabuse (Flocke)
1963
The Pearls of Pauline (Commisar)
1964
John Goldfarb please come home (Samir)
1965
Do Not Disturb (Langsdorf)
Hogan's Heroes (General Albert Burkhalter) (TV Series)
1966
What did you do in the war, Daddy? (Colonel Kastorp)
1967
The Caper of the Golden Bulls (Morchek)
Double Trouble (Inspector De Groote)
The Guns for San Sebastian (Vicar General)
A Fine Pair
Funkstreife Gottes
1968
Lucrezia Borgia
The Maltese Bippi (Axel Kronstadt)
The Wicked Dreams of Paula Schultz (Oscar)
1969
La Morte Bussa Due Volta
Ruba al prossimo tuo (Chief Wellman)
Blonde Köder für den Mörder (Pepe)
1971
Der Schwarze Graf
1972
Hammersmith is out (Dr. Krodt)
The World's Greatest Athlete
Mrs. Widow
1973
Perahim
Die Maghrebinischen Geschichten
Genesis II (Overseer) (TV)
1974
Die gelbe Nachtigall
Affaire Hofrichter
Karl May
Young Frankenstein
Parapsycho – Spektrum der Angst
1975
Dr. Death (Thor)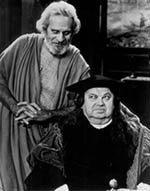 1976
Meeting of Minds (Karl Marx)
1978
Meeting of Minds (Martin Luther)
1979
Meeting of Minds – production of two episodes
Going Ape (Zebrewski)
1981
Frightmare (Wolfgang)
1982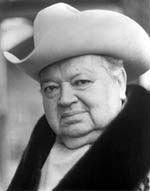 Airplane II: The Sequel (Moscow Anchorman)
Kottan ermittelt

1983
Hotel New Hampshire – Dialog-Direktor
Kottan ermittelt

1984
First Strike
Stroke of Genius
Odd Jobs (Don Carlucci)

1985
Savage Island (Luker)
Stiffs

1987
Deshima (Frank Niervergelt)

1993
Occhio Pinocchio (The Psychiatrist)

1994
Höhenangst
Hitler – mein Krampf (Lanz von Liebenfels), as Video sold by Komplett-Media-Verlag
ISBN 3-86148-287-8, ATS 350,--

1995
Die Fernsehsaga – Eine steirische Fernsehgeschichte (Alter Adler) (TV)
Glück auf Raten (TV)
Tödliche Liebe

1997
Die Bräute (Rutte) (TV)
Leon Askin (Über)Leben und Schauspiel, a film by Egon Humer
Black Flamingo

1998
Kubanisch rauchen (Waranovsky)

1999
Die älteste Wienerin (Wrsnak)

2001
ENE MENE MUH UND TOT BIST DU (King Lear)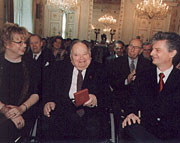 1988
Austrian Cross of Honor for Science and the Arts
1994
Silver Medal for Service to the Land Vienna
1996
Honotary title of "Professor" awarded by Minister Scholten
2002
Austrian Cross of Honor for Science und the Arts I.class
2002
Golden Medal for Service to the Land Vienna
Honorary office
Honorary President of CCC-INTERNATIONAL - CHILDREN'S COMMUNICATION CORNER
The "Academy of Continuing Education in the Arts" appointed Leon Askin Honorary Artistic Director